Realtime Gaming launches new scratch card game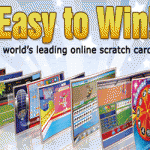 In the recent past, software provider for online casinos Realtime Gaming only released video slots. So the gamblers were surprised to see the latest company release.
For quite some time Realtime Gaming online casino software provider only released video slots. Therefore, a different type of game released was a pleasant surprise for gamblers. The latest product, launched last week is named the Treasure Tree. This is a scratch card game, which in some online casinos is actually found under the name of Match & Win. The exciting thing about the title is that visually this is a new kind of scratch cards.
How things work in the new game
In the center of the screen you will see a tree with a broad crown. It has loads of differently colored moneybags hanging on it. A player clicks on the bag and it opens with a characteristic sound. Each bag has a prize in it, but if you want to win you'll need three identical prizes of the same color. In single game you can get a match for each of the three colors. They represent certain amounts of money (up to – 500 times the rate) and free games (maximum – 25 attempts). In the free games all payments are increased, which is definitely great.
Peculiarities of the Treasure Tree game
The amount of interest on one attempt ranges from $ 0.25 to $ 25. You can also select the number of times that you want to do in one game. This may vary from one to as many as 500 attempts (500 attempts to $ 0.25 will cost $ 125). So as we see, the Treasure Tree scratch cards suited the players of different limits. The chances are very high that most RTG (Realtime Gaming) powered casinos like Micami Club will offer this catchy game starting from September the 1st.